You are here:
Home
/
busfinder – English

busfinder.com – the most innovative tool for bus companies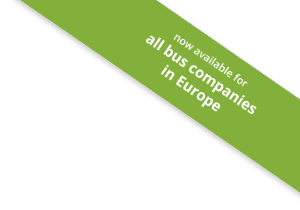 Booking platform
for modern access to international group customers
Use busfinder.com as an additional sales channel

Receive bookings without effort

Generate online bookings from companies, organisations, schools and international customers

Benefit from future system enhancements
Integration
as an innovative tool for your own website
24/7 availability for your own customers

Instant offers for your customers without internal effort

Enable your customers to book the desired bus immediately online and, if required, also pay online

Replace the cumbersome request form for customers

Stand out from the competition

Integrate quickly and easily on your website
Interface solution
for complete automation of business processes
Automated availability query via your existing dispatching programme

Transfer of customer and booking data for all online bookings to your order management system

Existing interface solutions to RATIOsoftware, Kuschick, Turista, Delta Plan and CS Bus - Computer Steiner

Development of individual interface solutions possible
Input mask
for transfers, day and multi-day trips
Connection to Google-Maps with conversion to bus travel times

Input of intermediate destinations, boarding points and breaks

Detailed departure and arrival times

Automated recording of legal driving, operating and rest times

Automated entry of a 2nd driver if the maximum driving and operating times are exceeded
Instant calculation
of the entire fleet, standardised, taking into account individual tariff specifications
Hourly and kilometre rates

Hourly and kilometre scales

Tariffs for 2nd drivers with automated recording

Various daily and minimum turnover flat rates

Individual surcharges and discounts for night hours, Sunday and public holiday hours, weekdays, seasons, special dates and foreign kilometres
Our project approach
this is what sets us apart from all our international competitors
Busfinder.com is a modern end customer platform, where group customers can create detailed offers of various bus companies and vehicles in a few seconds and book them online immediately, while we offer a transparent service presentation and customer ratings

We connect the booking customers directly with the bus companies offering the services and do not trade in orders

We promote the marketing of buses in line with the market and costs

We refer to a successful pilot project in Austria where we were able to connect more than 50% of the bus companies directly to our system

We have successfully started the internationalisation of our project with the first 100 connected bus companies in Germany

We refer to international co-operations such as the distribution agreement with Daimler AG (Daimler Buses/EvoBus).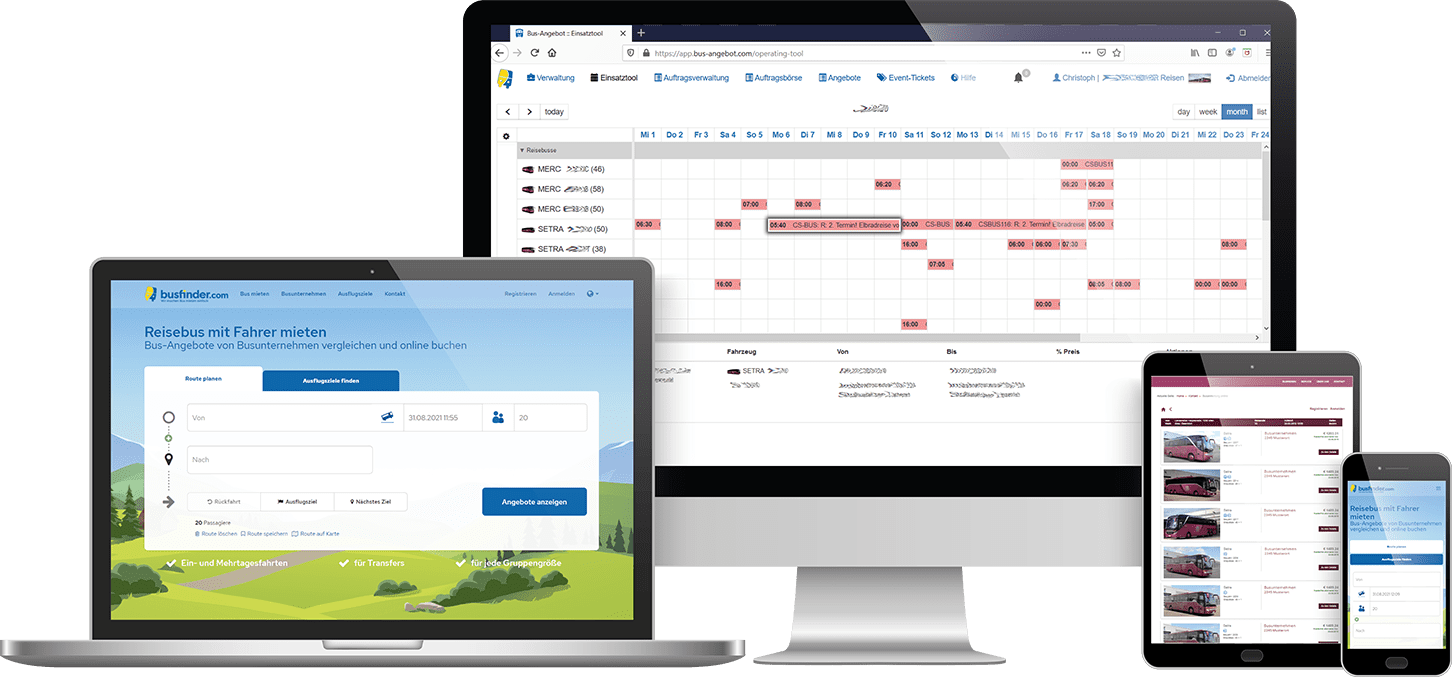 1
Route planning tool taking into account the legal driving and rest times
2
Access to the administration of buses, drivers, tariffs and customers
3
Deployment tool for the administration of availabilities as well as for the disposition of vehicles, drivers, offers and orders
4
Busfinder.com for use on the bus companies' websites
Basic package
– Registration
– Site integration
– Payment interface
– 2 online trainings (a' 2 hours)
Total one-time price 1.190 €
Promotional registration price until 31.12.2022.
(List price 1.589,00 €)
_______________________________________
NEW: Statistics tool flat fee, monthly
Statistics tool flat fee, monthly – 15,00 €
only with the activation of online payment
System fees (integration page)
Bookings via busfinder.com – 7%
incl. bookings via sales integrations
Bookings via page integrations – free of charge
Page integration on the websites of the bus companies
Request fee – 0,39 €
per customer/per 24 hours
Payment interface, monthly – 15,00 €
only with the activation of online payment
Management software interfaces
on request

The EBA Bus Alliance
Your reliable partner in digitalisation
EBA Bus Alliance GmbH. sees itself as a service provider in and for the bus tourism industry. In addition, we act as a system and information provider and in this sense act as a communication interface to all those who have an interest in bus tourism.
EBA Bus Alliance GmbH. accompanies bus tourism operators on their way into the digital future by providing online and administration software, among other things. In cooperation, we form a correspondingly large network and support the bus tour operators, while guaranteeing the independence of the individual partner companies.
Furthermore, we link the bus tour operators with various suppliers, service providers and organisations and form purchasing and sales or marketing communities.
"If you want to go fast, go alone. If you want to go far, go with others!"

– African wisdom
10 years of experience in the development and provision of digital administration and sales solutions in the bus tourism industry.

as software developers we take a neutral position in the bus tourism industry (no self-interest in bus orders)

we form a unique and international network, because networks only hurt those who don't have one.

the future of bus tourism also needs visions - and someone to implement them - we are continuously working on this.

personal contact with our partners is important to us

we accompany bus tour operators into the digital future without restricting the independence of our partners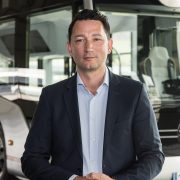 Alexander Pöschl
Head of Strategy and Future Topics
Daimler Buses
Making business noticeably easier and more efficient. This is the objective of Daimler Buses, which we pursue for our customers with the digital services in the OMNIplus ON Portal. It is also the approach and motivation for bus companies to digitalise their daily business processes. Particularly in charter and rental transport, it is important to meet the constantly changing demands of customers.
We have found an innovative and reliable partner in the team of the "EBA Bus-Alliance". The digital solution "busfinder.com (Bus-Angebot.com)" completely covers the requirements of bus companies in the area of standardised offer creation and the increasingly important online bookability and thus creates added value and a sustainable competitive advantage for every bus company, regardless of the size of the company.


um für die Zukunft gerüstet zu sein…
Busfinder.com – das innovativste Tool für Busunternehmen